At the beginning of the mass production of serial electric cars, this industry embodied the idea of environmental care and freedom from the need to monitor the amount of fuel in the tank. And while the level of eco-friendliness of electric cars is constantly improving, the issue of their dependence on charging stations is still critical for many buyers. Insufficient infrastructure in rural areas and long charging times are significant constraints that prevent car owners from fully enjoying the capabilities of electric cars.
L-Charge's innovative solutions have the ambitious goal of reversing the situation and revolutionizing electric vehicle charging. And given the achievements of the company, it is safe to say that it has already made a significant contribution to the future, where electric vehicles will completely replace all other forms of transport.
Experience, research, and innovation
L-Charge is a company that has specialized in developing, manufacturing, and operating ultra-fast charging solutions for electric vehicles since 2020. L-Charge products were created thanks to the experience in power generation accumulated over more than 20 years of research and rigorous testing. Dmitry Lashin, the company's founder, saw great potential in this technology and applied his extensive knowledge and skills to develop it and meet the need for a developed system of ultra-fast charging stations on a global level.
The result was immediate, and in just two years, the London-based company has launched a charging station service for electric vehicles throughout the UK capital, and it plans to actively expand to other countries in the near future. L-Charge's high-tech solutions have already been recognized by customers and experts, and the company's recent victory in World Future Awards in the category of Best Charging Solution for Electric Vehicles is further proof of its success.
Unique product
Claiming its advantages over competitors, L-Charge does not throw words to the wind. One of the key advantages of the technology is ultra-fast charging. It takes several hours to charge a car from 20% to 80% at most charging stations, even if you use so-called «fast» 7-22kW chargers. Stationary L-Charge stations provide up to 2,000 kWh, so the charging speed depends only on the vehicle's specifications.
Understanding drivers' need for convenient access to charging stations, L-Charge offers not only scalable fixed stations, but also mobile solutions that help an electric vehicle get its charge no matter where it is.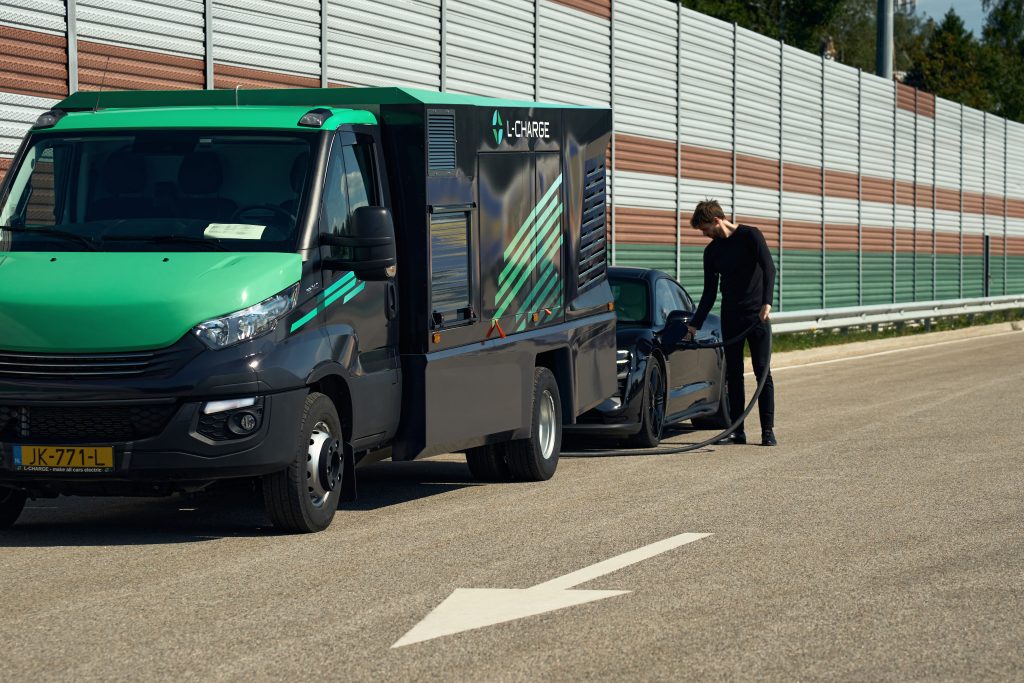 Scalability and mobility
One of L-Charge's key products is stationary ultra-fast charging stations that can be installed on demand almost anywhere. It takes an average of one day to install such a charging station. It operates independently of the grid – the incoming fuel is liquefied natural gas, hydrogen, or a mixture of the two. The chargers are adapted to the users' requirements and are available in different outputs, from 300 kW to 2,000 kW.
The L-Charge mobile charger works on a similar principle, but it does not require installation. Instead, it is a miniature power plant on board a specialized van that works without a power connection and needs to be refueled with LNG and hydrogen only once a day. This van can be pre-ordered at the right place and time in advance or made an urgent order via a mobile app. The station delivers a charging capacity of up to 130 kW and can be used for ultra-fast charging of all types of electric vehicles.
The benefits of L-Charge ultra-fast charging technology can also be enjoyed on the water. Its floating charging stations of up to 130 kW provide recharging for electric boats, delivering clean, sustainable energy to boat builders, port operators, and marinas.
Transforming an entire industry
The simplicity and user-friendliness of L-Charge chargers, along with their outstanding technical performance, are important factors in the mass transition to electric vehicles. Brand solutions open up new horizons of opportunities both for individual owners of electric vehicles and for commercial entities whose activities are related to transportation. Already today, fleet owners, managers of transport companies, leasing companies, land owners, and taxi operators can join the pioneering initiatives of L-Charge and join forces to bring a more comfortable and cleaner future for all mankind.