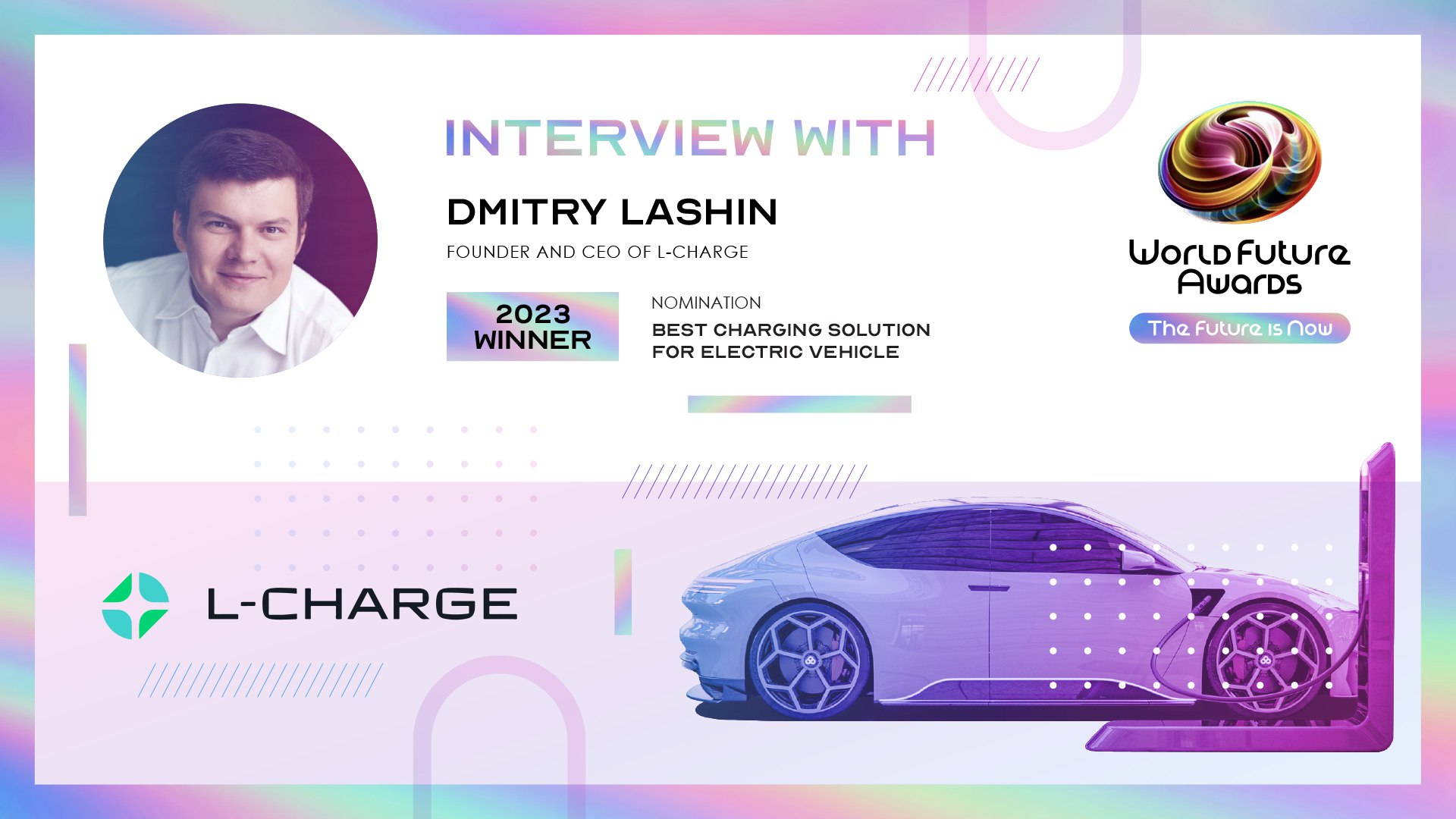 Interview with Dmitry Lashin, Founder and CEO of L-Charge
As the automotive industry ramps up the production of electric vehicles, the issue of convenient charging takes on particular importance. The L-Charge team develops and implements advanced technological solutions to help electric vehicle owners in the most innovative and efficient way. The company's efforts have received international recognition, and this year it was recognized by the World Future Awards as Best Charging Solution for Electric Vehicles.
We spoke to Dmitry Lashin, Founder and CEO of L-Charge about the company's goals and achievements and industry innovations.
World Future Awards: To start with, please, tell us about yourself. What is your professional background, and what did you do before you started L-Charge?
Dmitry Lashin: Before founding L-Charge, I had a long and successful career working in both greenhouses and energy facilities. I became a leading greenhouse industry service provider, building energy facilities with power in excess of 500 MW.
Now I'm using this experience to develop technical solutions for electric vehicle charging stations.
WFA: How did the idea of founding L-Charge come to you?
DL: I have always believed that the future of the car industry is electric. The fundamental idea behind L-Charge's inception was the understanding that the global charging infrastructure was insufficient for supporting the quickly growing EV needs.
When we initially raised funding, we conducted a market analysis and found that even in California – the most electric-vehicle-friendly state – people were refraining from using electric cars due to the lack of available infrastructure. Even now, the number of ultra-fast chargers is significantly lower than the number of regular ones, meaning electric car owners must plan their travels around the available charging stations – something that simply won't do.
We saw this as an opportunity to enter a new market with novel charging solutions for EV owners. We came up with the idea of creating off-grid, super-fast chargers that don't require a connection to the mains. We have both a fixed option and a mobile option, which can be called to one's location like a taxi.
WFA: Tell us about your company. What is the general idea behind it, and what does a normal day look like?
DL: Our core idea is that electric charging should be fast, future-proof, and accessible anywhere. Electric transportation has achieved widespread use relatively recently, which means that the technology of electric vehicles is rapidly evolving. Yet still, the charging infrastructure can't keep up with that. While it is true that the charging speed is limited by the car's capacity itself, it can also be limited by the charging station. With new technologies enabling faster charging for new electric car models, we should have more fast-charging stations ready. And still, many of the charging stations that are built worldwide are slow.
For instance, there are only around 20,431 Level 3 charging stations in the US according to the S&P Global Mobility report. This will only lead to the need to rebuild charging stations, which is very costly. Installing 10 charging stations with a capacity of 100kWh would require a new infrastructure. Even in developed cities such as London or New York, finding 1 MW of spare energy remains a challenge. Since our solutions are off-grid, we also provide aid to another common problem that is large pressure on the grid by electric vehicle charging stations.
WFA: Your products and services are obviously extremely sought after by electric transport drivers. In which regions are your charging stations most common, and which regions do you see as the most promising in the near future?
DL: We are UK-based, but we aim for the global market and have manufacturing facilities in Europe and the USA. We are planning on expanding to other markets like the Middle East.
WFA: What are the biggest challenges you face in your work?
DL: The growing needs of EV users outpace the speed at which the global charging infrastructure is developing. At the same time, it is also true that not everyone is ready for drastic changes and improvements in the EV charging industry.
We are still relative newcomers to the market, in spite of operating in multiple countries, but we plan on scaling up and growing and are committed to demonstrate by example how the EV charging sector can be improved.
WFA: How do you view the global dynamics of charging infrastructure for electric vehicles? What would you change about it?
DL: We expect that electric cars will need to withstand higher voltage and faster charging in the near future. Currently, companies such as Hyundai and Kia are incorporating new technology to enable their EVs to handle up to 350 kWt of charging power. Looking at this tendency we would suggest installing more charging stations with higher voltages now, instead of waiting for the need to rebuild the charging stations to suit faster-charging cars. We also believe that we should try to use other green sources of energy instead of heavily relying on the grid to avoid power shortages.
WFA: Please could you describe for us, from the perspective of the average electric car owner, the charging procedure in or out of town. What steps do you need to take in order to use the L-Charge service?
DL: We try to make our users' experience as intuitive as possible. The steps for using our mobile charging service are the same for all users, in and out of town: First – download our app, second – select their target location, third – select the location, how much would you like to charge, and convenient time – that's it, the charger will arrive at the chosen location and allocated time. Payment can be done via our app as well for maximum comfort usage.
WFA: How close do you think the future of fully electrified transport is? What has the most impact on bringing it closer?
DL: With grandiose plans for the electrification of transport, and prognoses that there could be as many as 7.8 million EVs on the roads of the USA in 2025, it is also necessary to consider alternative energy sources to provide lasting and pollution-free solutions. Even now, some of the states have reported setbacks in their plans for various reasons, including a lack of electricity grids, equity concerns, and supply chain shortages. While some states like Texas and California have stated that their grid should be able to manage the increased capacity of millions of electric vehicles, some other states are not so certain. In the case of it being impossible to use the capacities available, then sun, wind, and hydrogen energy will be the answer. By doing this, a real and time-proof infrastructure will be built for a changing world.
WFA: What are L-Charge's most interesting and promising areas of activity at the moment? What innovations and projects can your customers and partners expect?
DL: Together with developing mobile chargers and fixed charging stations we are also working on making electric vehicle charging seamless. To charge, all you need to do is plug the charging gun into the car, and that's it. We will recognize the car ourselves and process the payments even without logging into the app. We are also planning on developing charging solutions for the electric boats.
WFA: How do you feel about L-Charge winning a World Future Awards?
DL: Being able to overcome our challenges and continue our production is rewarding. Winning World Future Awards is a one-of-a-kind experience and we are grateful for such a high assessment of our technology. This further gives us the incentive to keep working hard and making our technology better and clearer for the customers.