No matter how high-quality and comfortable shoes you wear, nothing can compare with the unmatched feeling of walking barefoot. However, this does not mean that it is impossible to create footwear that approximates this delightful experience as closely as possible and brings it into everyday life. That's exactly what Feebees do, unique sock sneakers that allow you to enjoy the barefoot experience in any situation and any setting. Their bold and innovative approach has earned them recognition at the highest level: this year, Feebees won the World Future Awards in the Footwear category. But it's not just about the most comfortable shoes that will change the way you think about footwear. The brand implements a consistent concept of sustainability and environmental consciousness.
Origin of Feebees
The Feebees story began when Chen Guming decided to make her first pair of shoes for his two-year-old daughter on his own. As a loving father and a professional with years of shoe-making experience, he wanted to create the perfect shoes for his baby girl. Understanding that children's shoes have many specific characteristics, Chen realized that everything that was available on the market was far from perfect. It took almost two years of research, development, trial and error, and communication with other professionals to develop shoes that met his high quality requirements. In 2014, Chen Guming was able to present his two-year-old daughter with a unique pair of snickers socks. That was the beginning of Feebees.
For kids and beyond
For several years, Feebees specialized in the production of exclusively children's snickers socks. Parents who care about the comfort and health of their children appreciated the development of Chen Guming and his team. Feebees products proved to be ideal for babies who were taking their first steps; the carefully thought-out materials and design ensured the fit of children's feet, comfort, and safety of walking.
Over time it was decided to develop models for adults. At the moment, Feebees is a brand that produces original, quality, and functional shoes for people of all ages and lifestyles.

Footwear for any occasion
To describe Feebees as simply as possible, they are socks with thickened soles. But behind this simplicity and minimalistic design are years of development and experimentation in search of perfection. The sock sneakers do not need laces – you can just put them on your feet in a few seconds, and you're good to go.
The Feebees top uses an exclusively developed weaving method with highly elastic nylon yarn. This method ensures that the material adheres to all parts of the foot, taking into account the anatomy, ensuring comfort and breathability of the skin.
Chen Guming knows firsthand the problems of the spine and understands the role of proper foot placement in back health and overall body condition. That's why it was extremely important for him to make a sole that would give quality support to every Feebees owner. During the development of the sole structure, Chen himself actively wore Feebees and even participated in Ironman competitions in them. This allowed him to embody a one-piece foam sole with balanced rebound and foot support. The sole adapts to the individual shape of the wearer's foot, making Feebees the perfect shoe for home and outdoor activities.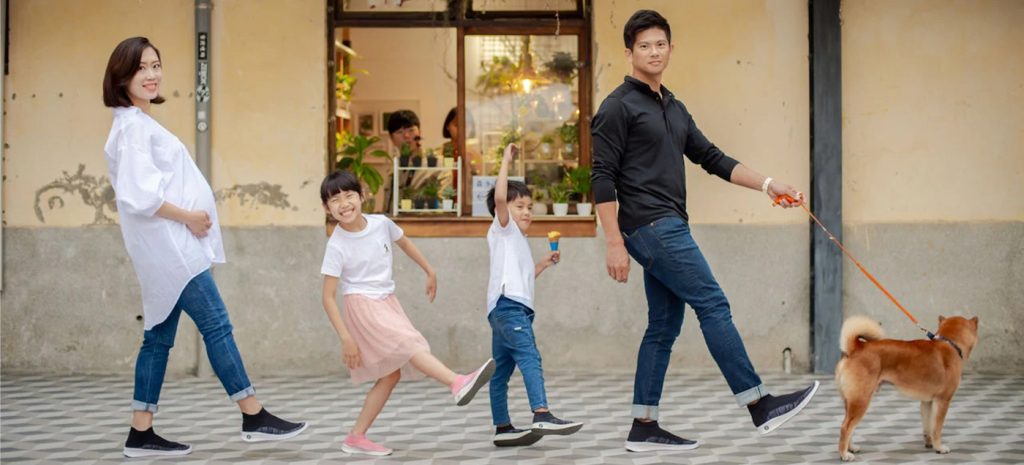 Sustainability
Along with the concept of the barefoot experience, an important aspect of Feebees is environmental protection. Chen Guming strives to avoid minimizing the carbon dioxide emissions common to conventional shoe manufacturers. Sustainability has become one of the basic concepts in Feebees' work, and the company has achieved impressive results in this. The carbon footprint of the brand's footwear production is only 40% of that of normal shoes.
In addition, customers can return old shoes for a fee. In the patented Feebees recycling machine, used shoes go through five crushing steps before they can be used to make new shoes. Compliant with GRS & RCS Recycling Standards and having UK BSI Carbon Emissions Certification, Feebees are one of the most environmentally friendly shoe brands in the world.