Ever since we surrounded ourselves with electronic gadgets and mobile devices, making them a very important and useful part of everyday life, we have become partly dependent on our smartphones and smartwatches. This dependence is especially strong when at the most inopportune moment, our iPhones report that they are running low or when our desktop becomes a place to charge multiple devices with a separate charger for each of them and tangled wires. PITAKA offers an elegant solution to keep your gadgets always charged, adding a spirit of innovation and style to your workplace. Meet MagEZ Slider, this year's winner of World Future Awards in the category of Best Charger.
About the creators of MagEZ Slider
PITAKA's international team consists of passionate experts from various fields, including designers, engineers, creatives, research and development (R&D), marketing, sales, and customer service. Avoiding the beaten path, they look for and find alternative ways to bring unique and high-quality innovations into people's lives. Each product is the result of painstaking work and a non-trivial approach to working with materials, and design, which forms a new lifestyle steeped in technology and comfort.

What is MagEZ Slider
This multi-device wireless charger is the perfect embodiment of PITAKA's commitment to an alternative tech lifestyle. MagEZ Slider brings order to your life by providing simultaneous charging for multiple devices and freeing up space and time for important things and activities. As the embodiment of PITAKA's creative philosophy, the MagEZ Slider becomes a part of your life, showing that even a utilitarian device like a charger can be a stylish and elegant accessory to your workspace.

With its mug-like size (76 x 76 x 111.8mm), the MagEZ Slider gives you the ability to charge up to four devices at once. Its spinning base gives you 360-degree access to all devices that charge from it. The modular design opens up access to maintain the life cycle of your iPhone 13/12 Series, Galaxy S22 Series, AirPods, and Apple Watch.

How It Works
The first thing that draws attention is the elegant power pack on the front of the device. This MagSafe 4000 mAh power pack charges when you slide it into a special dock on the base. When the power pack is mounted in the MagEZ Slider, you can snap your iPhone onto it with a magnetic attachment that ensures proper placement and continuous charging of your smartphone. If your phone is not fully charged and you already need to leave, you can slide it out along with the power pack attached to the back, and the phone will continue charging on the go. Once you've charged your iPhone, simply detach the power pack from it and slide it back into the dock – it'll be charging for future use.

To charge AirPods 2, AirPods Pro, or other Qi-compatible wireless headphones, simply attach the magnetic stand on the opposite side of the MagEZ Slider. This will provide wireless charging for the headphones both with and without the special case.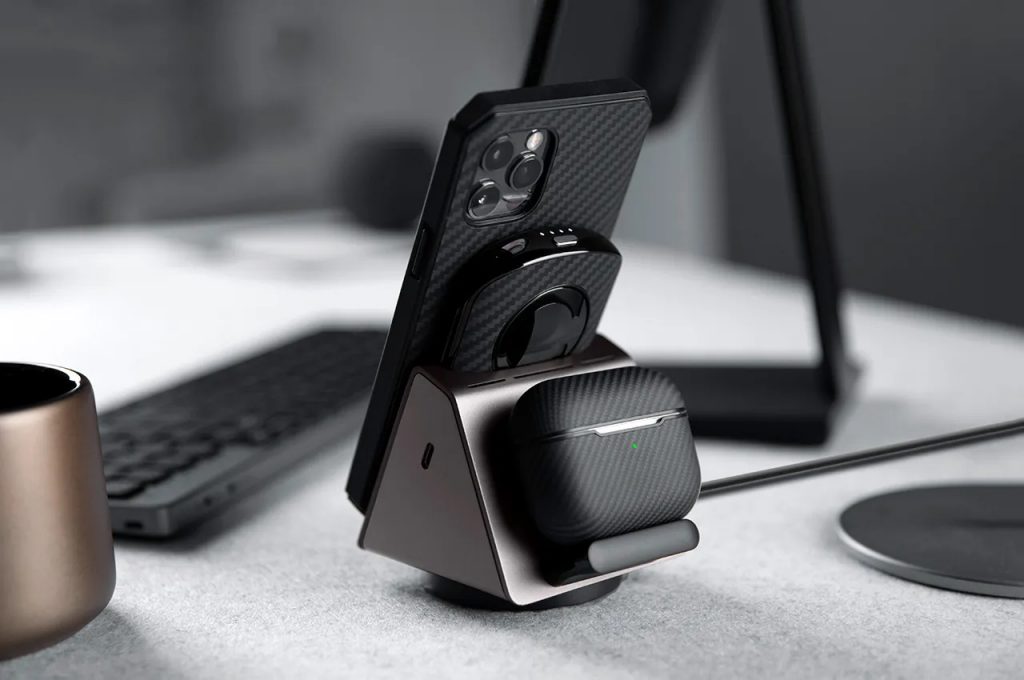 On the side of the dock station, is a USB-C port into which you can insert the Pitaka`s Power Dongle for Apple Watch, which is purchased separately. This MFi-certified wireless charging dongle with a magnetic lid is compatible with all Apple Watch models and allows you to charge your watch simultaneously with your iPhone and AirPods.

The MagEZ Slider dock station itself is mounted on a 360° spinning base with a 20W USB-C PD adapter and cable that provides faster, smarter, and safer power to each of your devices. The spinning mechanism provides easy access to any of your devices on the charge, and in some cases, it can perform a soothing function with its pleasant clock ticking sound.

Package and Pricing
MagEZ Slider includes the slider dock, battery back, magnetic earbuds stand, Type C to Type C cable, and PD20W charger. The cost of the kit is $129.00. If you purchase the MagEZ Slider from the manufacturer's official website, you can save money by purchasing the Power Dongle for Apple Watch together with it.