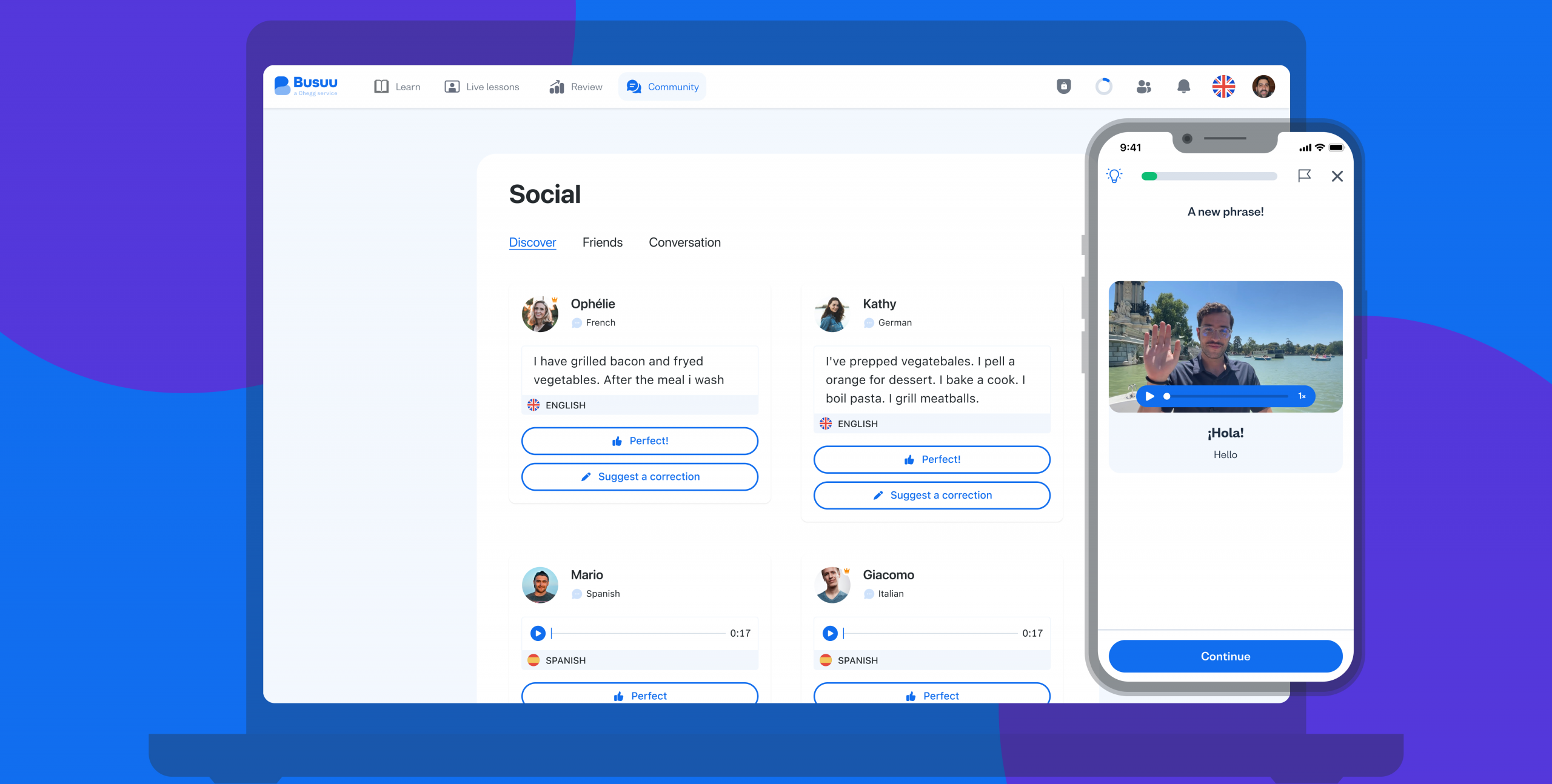 Busuu
Sub-Category
Language Learning Platform
Busuu's mission: to empower people through languages. Founded in 2008 and now part of NYSE-listed Ed-Tech company Chegg, Busuu was born from founders Bernhard Niesner and Adrian Hilti's frustration with traditional language learning methods. After graduating, they developed a new platform that delivered quality self-paced language learning with online support from native speakers.
This global online community is what sets Busuu apart. Over 120m registered users currently access free, complete language courses in 14 languages using compact lessons and feedback from native speakers. This exchange of cultural insights and local language knowledge enables people to acquire the skills to interact confidently in real life.
Learners build solid foundations using lessons created by experts, following the latest language learning methodologies, and a broad range of interactive exercises. Courses cover all pillars of language learning – listening, reading, writing, and speaking – to build a fully rounded skill set. With plenty of opportunities to practice with native speakers, users actively learn from each other. The recent addition of video flashcards provides even more opportunities to hear and see native speakers, which is crucial to mastering pronunciation.
The self-led learning model means users can easily fit language learning into their busy schedules regardless of their motivation or end goal. They can access complete language courses to reach fluency (up to C1) or shorter courses designed for specific needs such as travel or business, and can top-up with focused pronunciation lessons.
With motivating tools to keep every type of learner engaged, Busuu realizes the challenges of learning languages but offers solutions to keep users coming back and, at its heart, a community of native speakers learning, sharing, and growing together.
These integral human interactions are supported by AI technology, found in key features, to provide support solutions that complement learning. Examples include Busuu's placement tests, meaning users can quickly get on with learning at their correct level, and the Smart Review function which compiles all grammar and vocabulary covered in completed lessons for easy revision. This all adds up to a fully personalized language learning experience.
MORE WINNERS
NEWSLETTER
Sign up to learn more about our project and to stay up to date.