PITAKA Wins World Future Awards for Multi-Device Charger MagEZ Slider
The life of a modern person living an active life is inextricably linked to mobile devices, and often literally depends on them. In turn, the operation of mobile devices is closely related to the ability to charge them in various conditions. This issue is particularly relevant when it comes to the scenario with the simultaneous use of 2-3 devices, which is a common case today. The multidisciplinary team of PITAKA enthusiasts has developed a neat solution that will help you stay connected at all times. Not surprisingly, their MagEZ Slider won the World Future Awards in the category of Best Charger.
World Future Awards is a global award selecting, recognizing, celebrating, and promoting the best products, software, and services that will transform the global economy and define the landscape of the future. The organization researches inventions across all categories, including technology, beauty, health care, food, home, and entertainment, that are making the world better, smarter or even a bit more fun. The expert panel of the World Future Awards praised PITAKA's innovative product for incorporating the latest technological advances and sophisticated design solutions that not only increase the level of comfort in people's lives, but also bring touches of style to their everyday experience.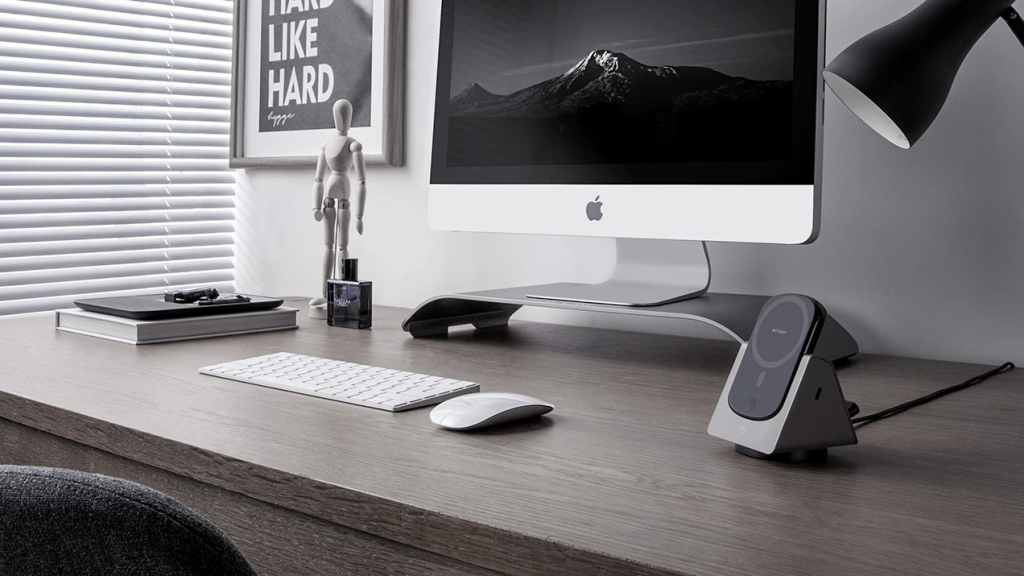 The MagEZ Slider is a wireless charger for multiple MagSafe and Qi Wireless Charging compatible devices. The charger is the size of a mug and can charge up to 4 devices simultaneously. It is equipped with a mobile power pack, which must be installed in a specific slot of the device. The iPhone 13/12 and Samsung Galaxy S22 can be placed on this power pack, which will be held there by magnets. If necessary, the power pack can be removed from the charger and used as a battery to charge the phone on the go.
On the other side of the MagEZ Slider, there is a pad to which the magnetic stand attaches for charging AirPods and other Qi-powered headphones. The charger also has a USB-C port to which you can connect a Power Dongle (purchased separately) and use it to wirelessly charge the Apple Watch.