Nuro: Shaping Autonomous Local Delivery Services of the Future
Electric cars with autopilot have not yet become commonplace on public roads, but they no longer cause much trepidation. However, when an unconventional, tiny Nuro R2 vehicle hits the road, it will at least attract your attention. And when you see that there is no driver or passengers in this car, but only goods on their way from stores to customers, you may be surprised even more. As soon it becomes obvious to you that this humble car is meant to redefine the AV delivery industry and make the world a slightly more comfortable and safer place, you are likely to take an interest and respect for it and its creators. That interest is further fueled by the fact that this year, Nuro, the car's developer, was named winner of the World Future Awards in the category of Self-Driving Vehicle That Delivers Products to Buyers.
Nuro R1. First generation
Nuro is an autonomous delivery company founded in 2016 by former Google employees Dave Ferguson and Jiajun Zhu, who worked on the Google self-driving car project, now known as Waymo. In 2018, the firm unveiled its prototype robotic delivery vehicle R1. This electric robotic delivery vehicle was designed solely for delivery services, with no driver or passenger seating.
The R1 was equipped with a full set of radar, sonar, and lidar to move fully on the roadway, obeying all traffic rules and not endangering other road users and pedestrians. The R1 had extremely compact dimensions, with its height below the average human height and width of less than a meter. The refusal to carry passengers made the car much cheaper to produce and eliminated a number of complexities in design and operation.
Nuro R2
In 2020, the Nuro team unveiled a new, improved autonomous delivery vehicle, the R2. This generation features a stronger body, a 360-degree vision system that represents the road without any blind spots, a new sensor system, increased interior space without increasing the vehicle's dimensions, and increased battery capacity to run all day.
Nuro has received permits from the US Department of Transportation (DOT) and the National Highway Traffic Safety Administration (NHTSA) to test the R2 on public roads as a self-driving car without mirrors or pedals. In doing so, the R2 travels at speeds of no more than 25 miles per hour.
Philosophy
R2 is an effective tool with which the Nuro team fulfills its mission of improving everyday life through robotics. Autonomous vehicle delivery offers a new approach to local commerce, providing faster, more convenient, more economical, and safer delivery of goods from stores directly to customers. It allows users to use conventional cars less, unload roads, and free up their own time to devote to the people and activities they love.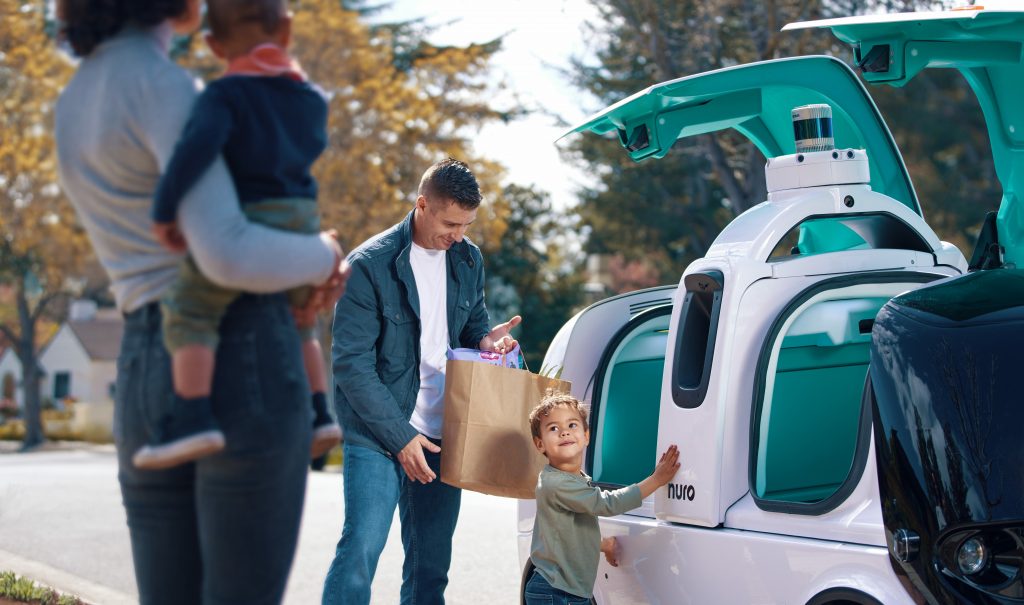 How it works
Nuro has teamed up with popular brands to deliver sought-after products fully autonomously and safely. Its list of partners includes Walmart, FedEx, Chipotle, Domino's, Kroger, and CVS Pharmacy. Customizable compartments and a large payload allow the R2 to carry a wide range of loads, from pizzas to large grocery bags.
To use R2's services, users must place a delivery order with one of the listed partners and select «Self-Driving Vehicle.» Once Nuro's self-driving bot picks up the order and sets off, the user will receive a link to track the vehicle. When the R2 arrives at the address, Nuro will send the user a message with an access code that must be entered in order to receive the order. To avoid confusion and to ensure the safety of goods, different orders are neatly separated from each other inside the vehicle.
Nuro currently provides fully autonomous delivery to customers in Houston, Silicon Valley, and Greater Phoenix.