Lucid Air Receives Best Luxury Electric Car at the World Future Awards
Lucid Air Receives Best Luxury Electric Car at the World Future Awards
When high technology meets luxury, a product is born that revolutionizes even such a cutting-edge industry as the electric car market. This is precisely the case with the Lucid Air by Lucid Motors, an extraordinary electric car that could be described at length in superlatives. The World Future Awards are pleased to recognize the company's dedication to thoughtful craftsmanship that is evident in every aspect of its operations by naming it the winner in the category of Best Luxury Electric Car.
World Future Awards is a global award selecting, recognizing, celebrating, and promoting the best products, software, and services that will transform the global economy and define the landscape of the future. The organization researches inventions across all categories, including technology, beauty, health care, food, home, and entertainment that are making the world better, smarter, or even a bit more fun. Working on technologies that shape leading-edge passenger car experiences, Lucid Motors is the perfect recipient of WFA's highest accolade.
The Lucid team has created a new generation car that has outstanding performance against the competition. With a gorgeous exterior and interior design inspired by California's natural landscapes, the Lucid Air is the most powerful, fast-charging luxury electric car with the longest range. Its maximum 1,111 horsepower allows it to accelerate from 0 to 60 mph in 2.5 seconds. The EPA estimated range is 520 miles, and the estimated time to charge for a 300-mile trip is 20 minutes.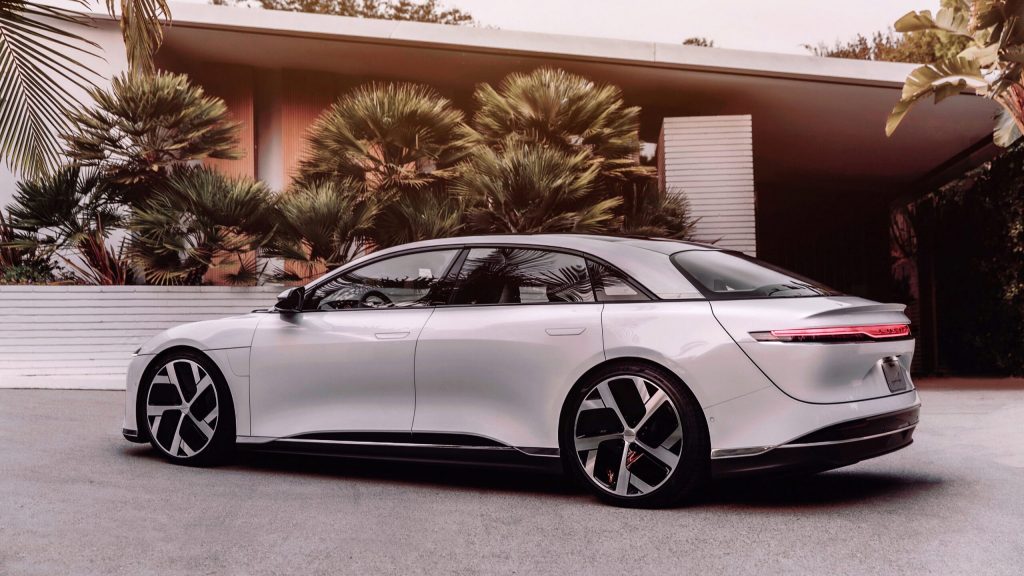 Lucid Air uses a number of unique technical and design solutions to maximize space utilization and overall driver and passenger comfort. The car's designers drew inspiration from aircraft, which helped them create one of the most aerodynamic cars in the world. With a mid-size exterior, the Air boasts a spacious, ultra-luxurious interior, comparable to a full-size sedan.
Lucid Air is controlled primarily by a floating 34-inch Glass Cockpit panel that curves around the driver's seat and presents all necessary information in a convenient way and in 5K resolution. The central Pilot Panel provides additional options for more in-depth control of the vehicle, and if necessary, it slides away to provide access to a concealed storage compartment. Convenient physical buttons, speakers, and customizable ambient lighting are seamlessly integrated into the interior and provide a distinctive experience for the driver and passengers.