Interview with Soumyadip Rakshit, CEO and Co-Founder of MysteryVibe
Interview with Soumyadip Rakshit, CEO and Co-Founder of MysteryVibe
Smart technology is penetrating deeper and deeper into our daily lives. The bedroom, the place where love and passion take shape, is no exception. Innovative devices from sex-tech company MysteryVibe help bring the quality of intimate life to a new level, offering a balance of advanced engineering solutions and medical research. The recent winning at the World Future Awards was the perfect opportunity to talk to Soumyadip Rakshit, CEO and Co-Founder of MysteryVibe, about how his company's products help improve the pleasure experience and sexual performance.
World Future Awards: Please tell us a little about yourself and your professional background.
Soumyadip Rakshit: I started my career at Philips while studying Electronics Engineering. Following that, I did my Ph.D. at the University of Bath, specializing in Biometrics. My research was published in Nature and led to the start-up, Smart Sensors, which quickly became a leader in Iris Recognition and was acquired by Fotonation, a computational imaging company. I then spent 7 years in Management Consulting, building cutting-edge technology in national security and financial crime. My clients included Home Office, eBorders, Transport Security, Santander and HSBC.
From my experiences, I learned that a major challenge in people's lives is keeping the 'mystery' alive in the bedroom. This is especially the case after major life events like childbirth, menopause, cancer treatment or surgery. So, in 2014, I co-founded MysteryVibe to bring deep product and operational experiences together and create medical devices which address big topics in sexual health like pain and erectile dysfunction.
Over the past 8 years, our team has worked closely with healthcare professionals and consumers to be at the forefront of the sexual health and wellness market. We've been bridging the gap between engineering, medical and pleasure to build MysteryVibe into a world leader in this space.
WFA: How did the idea for MysteryVibe come about?
SR: Sexual health is an important part of overall health, yet sexual problems are hardly discussed due to shame and stigma, even though they contribute significantly to decreased quality of life and relationships. MysteryVibe came about to normalize important sexual health conversations and elevate sexual health by making accessible and affordable alternatives to prescription medications. Our products are medically researched and doctor-endorsed to increase pleasure with body-adaptable designs and mitigate sexual issues like erectile dysfunction, arousal disorder, and pelvic pain. By making health sexy, we aim to keep the mystery alive in the bedroom and improve relationships.
WFA: How can you briefly describe the concept of MysteryVibe?
SR: MysteryVibe is a sexual technology and health company combining cutting-edge design & technology to create award-winning smart vibrators for men, women & couples that improves their health and well-being.
WFA: Can you tell us about the uniqueness of MysteryVibe offerings by the example of one of your products?

SR: We create revolutionary body-adaptable vibrators that are registered medical devices. Crescendo 2 is the world's first and only bendable, Bluetooth gender-agnostic vibrator. Designed to mimic human fingers, it bends into myriad shapes to adapt to your unique body shape and size. With superior bendability, six motors, and sixteen intensity levels, Crescendo 2 precisely targets erogenous zones with powerful vibrations like never before. Tenuto 2 is the world's first and only smart wearable male vibrator that is an alternative to prescription medication for erectile dysfunction. Tenuto 2 works to promote erectile function as well as elevate sensations for the wearer and partner, should one be applicable.

WFA: MysteryVibe sex toys are an interesting symbiosis of high technology, medical research, and impeccable design. How does your team manage to achieve such a holistic result?

SR: It's a balancing act of innovating a functional and aesthetically beautiful medical device that people can easily understand and apply within their lives. We start with deep medical research, informed by doctors, urologists, menopause specialists, and pelvic therapists. Then we collect feedback from people with these specific pain points, which informs our designs and product functionality. We go through several iterations before we land on a prototype that works, and even then, we continue testing and improving along every step of production.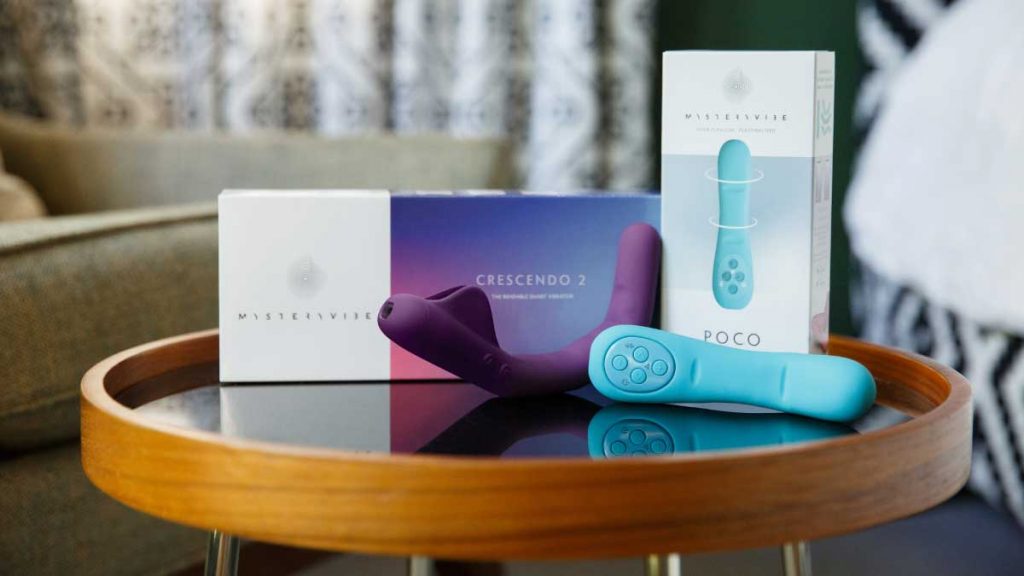 WFA: Your brand has shown the direction in which the sexual health and pleasure industry can develop. In your opinion, what other changes await it in the near future?
SR: Personalization is the future of sexual health and pleasure products. Every body is different and responds to different stimuli, so the importance of customization and body-adaptable designs will only increase as more people embrace gender fluidity and reject traditional exclusive vibrator designs that are incompatible with their anatomies.

WFA: MysteryVibe sex devices, with the consent of their owners, can collect data that is used for new developments and to improve product performance. Are there any interesting findings from the collected data that you could share?
SR: MysteryVibe devices do not collect any user data. Instead, we rely on one-to-one interactions with our users and experts to collect feedback on how we can improve our devices and what we should be focusing on developing next. The key findings from these interactions are ways to improve efficacy, usability, and understanding which sexual health issues can be addressed through vibration therapy.

WFA: How do you assess the current state of the sex tech sector? Are there aspects of it that you would like to change?
SR: While sex tech and sexual health are becoming more mainstream and accepted, securing funding is still an issue due to antiquated views about sex and sexual health. Sex tech companies are facing continued challenges in marketing due to policy restrictions in all major media companies. To create a sexually healthy and equitable world, we need to continue educating and overcoming these barriers with creative resourcefulness.

WFA: Does MysteryVibe have any initiatives beyond the development and production of innovative sex toys?
SR: The key to bringing about change in sexual health is through conversations, and this is especially true for couples where starting a conversation in the bedroom can be challenging. To support this, we work extensively on researching and writing actionable content in all things sex from pelvic pain to prostate cancer, audio porn to threesomes.

WFA: What can the industry and users expect from your brand in the near future?
SR: We just launched two new products, Tenuto Mini – the first compact male wearable vibrator, and Legato – the first labia vibrator, and we will launch another product in the coming weeks.

WFA: What are your emotions about MysteryVibe winning the World Future Awards?
SR: It's incredibly validating to receive recognition for the hard work the team has contributed to advancing sexual health and pleasure. Awards like the World Future Awards inspire and invigorate us to continue pushing through obstacles and helping those who need it most.